River Birch/Red Maple Spike - 20% Manganese cures yellowing Mn Chlororsis
"We have tried about every other product on the market to make our Red Maples, Pin Oaks and other problem trees come out of the Chlorosis that is so common here in Northern Illinois. We started a program using your Lutz Manganese Spikes a few years ago and much to our surprise, our trees responded within the first year. It is very rewarding when the customers sees that the program you suggest works, not to mention the cost savings versus using liquid feed equipment."
William L. Parker, Vice President
Moore Landscapes Inc.
Glenview, IL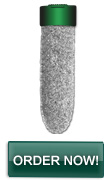 High pH is most often the factor in the yellowing manganese chlorosis often seen in Maples, Birch and other manganese deficient trees and shrubs.
We formulated the Lutz Maple/Birch Spike to contain a full 20% Manganese Sulfate. Then we add a full 16% elemental sulfur, which lowers the pH in the feeding area, creating an environment that assists in the plaints uptake of the essential chlorophyll producing manganese. The small amount of nitrogen in the Spike also assists with this uptake.

Low Cost – Highly Effective – Easy to Apply
Suggested Coverage and Placement
Place one Lutz Maple/Birch Tree Spike every four feet at the outer edge of the dripline. If deficiency is severe, reduce spacing to 3.5 feet.
Spikes can be either pounded into the ground using plastic caps provided, or dropped into the root zone, using the Lutz Fast/Feeder to make 8-inch deep openings. Heel the holes closed.
---
Spike Specifications
Maple/Birch Spike MB #30190-MB
Soluble Manganese
20%
Combined Sulfur
16%
Ammoniacal Nitrogen
4%
Total Nitrogen (N)
4%
Derived From: Manganese Sulfate, Sulfate of Ammonia.

---
What our customers say about Lutz River Birch - Red Maple Manganese Spike
"The two Silver Maples that have only been fed Lutz Manganese Spikes for the last two years are the hardiest robust Maples I've seen in my 32 years as State Forester."
"Your Manganese Spikes are doing an absolute job on a Red Maple. I feel they saved the tree. I've been telling my neighbors about them."
Peter Fillinger
Menomonee Falls, WI
"We've tried many things and your Manganese Spikes are the only ones that work. We're very happy with them, as are our clients."
"Your Manganese Spikes have done wonders on my Red Maples and Sugar Maples. We will be ordering more come spring."